Fertility Codes: Spring Preconception Cleanse to Create a Healthy + Loving Space for a Baby

I want to live in a world where every woman who desires to have a baby can have a healthy, happy, and loving child.
Where women's health is a more urgent priority
Women feel more empowered and supported moving into Motherhood
I envision a world where women have a better understanding about how their bodies work and are supported in its healing
This vision inspires me, but everyday I hear of women who feel like their bodies have failed them, feel like the medical system has failed them or doesn't understand them.
I feel frustrated that the food, cosmetic items, household cleaners, & medications that we've been taught to trust are the very things that are harming our health and our fertility.
I'm saddened that the Dr's that we trust know what's best for us are so quick to recommend IVF and other fertility medications before attempting to restore the body to wholeness and address what the root cause of infertility is. Whether it's a physical, emotional, or spiritual aspect, these things shouldn't be bypassed.
Now it's my mission to help women prepare their bodies for pregnancy, to understand the intricate system that is the female body & hormones, to clear their bodies of the rubbish that has accumulated from living in the modern world, that's diminishing their vitality and fertility.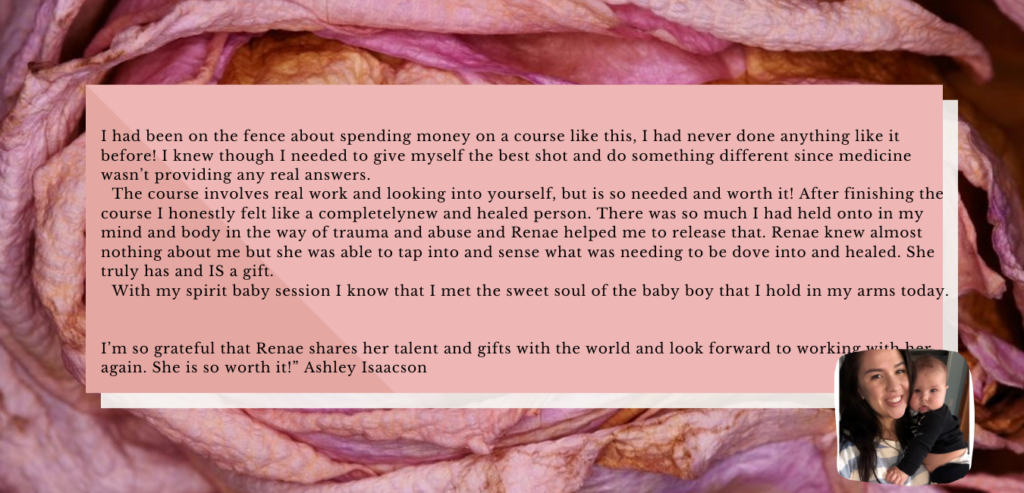 I want you to know that Motherhood is possible for you, having a healthy child is possible for you, and trusting your body is possible for you.
---
I want you to feel confident as you heal your body and reclaim your fertility .
Think about where you'll be after 6 weeks of nourishing your body with the foods that its meant to consume, living in sync with your feminine cycles to restore fertility and hormone balance. Preconception cleansing is far more pleasurable than one might imagine. I'm not here to sell any gimmicks or false hopes, or sell anyone expensive supplements and products.
I'm offering tried and true, deep- tissue cleansing at the cellular level. The value of living in a clean-celled body is priceless. Whether you've been struggling to get pregnant or are preparing for a pregnancy, this is for you. When you cleanse the body at the cellular level, you're cleansing your blood, your internal organs, strengthening your DNA and giving yourself and your baby a huge leg up. Although I believe that living in the modern world, its essential to to cleanse before conception.
I hear all the time from people that they think that detoxes are just a hoax, that our liver, kidneys, intestines are detoxing for us. While this is true, with all that we're exposed to most of these organs are far too congested to function as they're supposed to. If they were detoxing properly, we wouldn't be experiencing a myriad of symptoms right?! Allergies, constant cold/flu, difficult periods, acne, infertility to name a few.
I've created an amazing experience for you!
This preconception cleanse will be 6 weeks long, we'll meet each week for a training + plenty of time for Q&A, we'll have a Facebook group to connect with the other incredible women who are on this journey with you. I believe that when women come together with similar intentions big magic can happen.
You'll have me in the group to answer questions as they come up and the other women to support you and share their experiences.
You'll have access to the course material forever to keep coming back to it as long as you need it. A packet of delicious and easy to make recipes, Helpful PDF's to make food prep fun and easy. I promise I won't make you eat anything weird, this program is about meeting you where you're at, and making this as pleasurable as possible.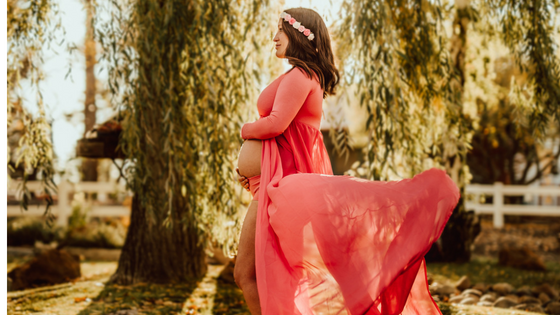 Over the 6 weeks I'll be your guide in creating a plan to restore your fertility and create a clear and welcoming space for your future child.
I'm here to meet you where you are, we're creating a cleansing lifestyle. Not diving into a full-throttle, trendy diet. We're making a graceful, intelligent transition with awareness of where you've been and where you're headed.
Module 1 Tilling the soil- Just as the farmer prepares the soil, we'll be preparing you to create and provide for another life. We'll access your current level of health and dietary needs and assist you in cultivating a new approach to food. We'll work through current addictions and devise a plan that feels good for you, so you can nourish yourself and your loved ones with health-generating foods so you can have time to heal and enjoy the journey.
Module 2 The female body was designed to be fertile, so we will be working to get back to that natural state. I'll share how we can use food, herbs, and other natural tools to make space in the body so that life force can flow, we want to ensure that these pathways can flow freely from mother to baby to ensure a healthy pregnancy. We'll continue with food stuff and I'll share tips to prepare simple, delicious, and health-generating foods.
Module 3 Cleansing goes well beyond just the body. In order to create a healthy + loving space for new life, we need to clear toxicity from all areas of your life including relationships, physical environment, emotional and spiritual health. We'll dive deep into these areas and you'll feel much more empowered and clear for motherhood!
Week 4– Implementation Week. This is your week, we'll focus on what's coming up for you and support you with coaching and Q&A.
Module 5 Conscious Conception- Let's bring some more sacredness to conceiving a child. Its easy for sex to get overly mechanized with the temperature taking, charting, pill popping, and stressful timing. Conception can something very powerful and special when a couple comes together to express their love for each other and with the intention of creating a new life. I'll share how to open to your feminine "receiving" energy to make this a more sacred experience.
Module 6 Calling in your spirit baby- We'll go through a few exercises to call in the baby that you're meant to have and to receive any helpful messages. It's possible to call in a baby that we can help with their evolution, they can support our evolution, and the evolution of the planet. I believe that the souls that are incarnating right now are of a very high vibration with big soul purposes!
After the course is completed, you'll have all course materials & trainings for life to go back to as needed. The facebook will stay in place to connect with each other, but as the course closes I won't be as available as I was while the course was active.
This is for you if:
you want to prepare your body to conceive naturally
you haven't been able to conceive, and there's no medical explanation why
you've tried IVF and it didn't work
you've experienced multiple miscarriages
you're not ready for children yet, but want to conceive easily when the time is right for you
you've had multiple children and want to restore your vitality and conceive easily without depleting yourself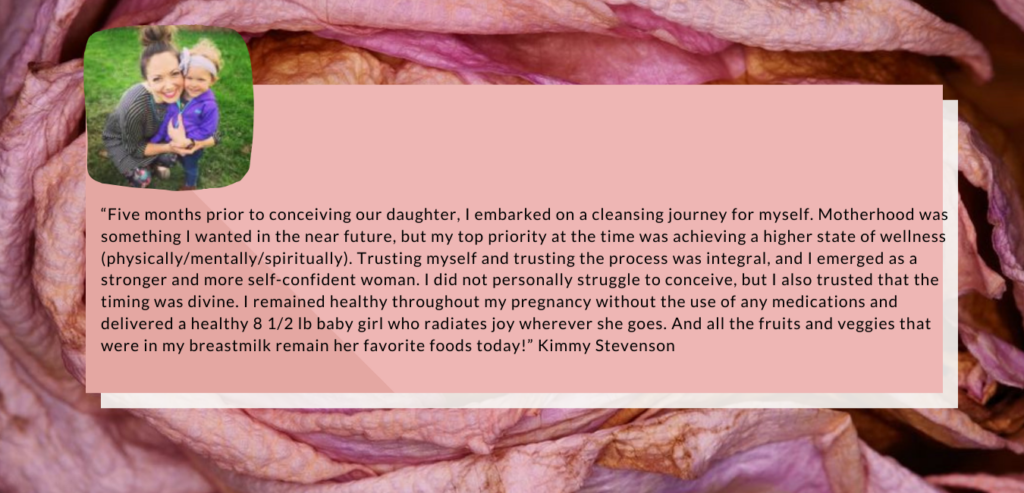 Do you see yourself in any of these statements? Hand on heart and hand on belly

I know it can feel scary to try something new when maybe you've tried so many other things. I want to you really feel into this and ask yourself if this is for you. Feel into your vision for yourself and your future family, what does it feel like?
What does the lighter, vibrant you- 6 weeks from now want to tell you?

Questions about the program? Contact me here

Cart Closes In…

[wpdevart_countdown text_for_day="Days" text_for_hour="Hours" text_for_minut="Minutes" text_for_second="Seconds" countdown_end_type="time" end_date="" start_time="1583252631″ end_time="13,11,36″ action_end_time="hide" content_position="center" top_ditance="10″ bottom_distance="10″ countdown_type="circle" font_color="#000000″ button_bg_color="#ff40ff" circle_size="130″ circle_border="5″ border_radius="8″ font_size="30″ countdown_font_famaly="monospace" animation_type="bounce"][/wpdevart_countdown]

Pay in full for $447

I've also created a VIP option if you want extra support during the program! In addition to the program, you'll get 2- 50 minute private 1:1 sessions with me to use anytime during our 6 weeks together.

3 spaces left for VIP option!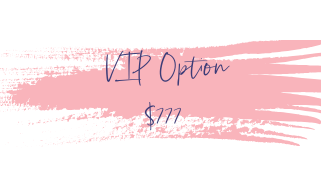 Or click here for payment plan option
By enrolling in this course you are agreeing to our Standard Terms and Conditions
Hi there!
I'm Renae, a Nutritionist who works with women to prepare a healthy + loving space for pregnancy. I'm probably not your typical fertility coach that promises that you'll get pregnant as quickly as possible.
I would never make such a promise to you. Infertility issues can run dark and deep and I would never sell you a false timeline.
I will promise you this: Preconception cleansing is the best gift that you can give to yourself and your baby. It will give you the steps to restoring vitality and life force that are essential to creating and sustaining another life. It will help clear anything physiological, emotional, and spiritual that is hindering you from getting pregnant.
When I was 19 I was told by my surgeon immediately after surgery for endometriosis that I would probably never conceive, and if I did, it would be a long, hard road.
I didn't buy into that story!
I chose to do the work to clear endometriosis, emotional and spiritual garbage, and a heart-wrenching mother wound what was keeping me stuck and sick.
Clearing all of this has been so healing and gave me the gift of conceiving 3 beautiful and healthy children easily and naturally. It allowed me to enter the journey of motherhood feeling empowered and healthy.
It's my hope and passion to empower every woman who desires a child to have one!